Beginning in 2009, the WLOS-TV Spring Clean Coat Drive has brought nearly 100,000 coats and a great amount of warmth to children and adults in western North Carolina. This 12 hour marathon has become they first sign of spring for so many in our mountains.
In partnership with WLOS-TV, My-40, Carolina Furniture Concepts (Airport Rd),  Two Men and a Truck the WLOS-TV Spring Clean Coat Drive has provided a great place for neighbors who are cleaning out their closets to donate the coats they may no longer need.
This year's collection was held on Friday, April 21 at Carolina Furniture Concepts on Airport Road. Coats will be distributed on Wednesday, November 8 and Thursday, November 9 from 9AM to 5PM at our new location – 23 Hamilton Street.  No sign ups are needed.  
Shoes and Clothing Vouchers are available to children in our community who are in need o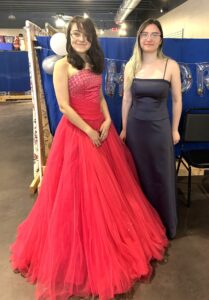 f shoes and clothing.  The vouchers are made at the request of the child's school counselor.
Prom Dress Express provides donated gently used and new prom dresses, shoes, and jewelry to high school students for prom and military balls at no cost. For many young women this event will never happen for one very simple reason – the price of the dress they would wear to their formal is just out of reach.  This year's giveaway was held on Saturday, March 25 from 10:00 AM to 4:00 PM and on Wednesday, March 29 from Noon until 4:30 PM at 52 Westgate Parkway between the Eblen office and Earth Fare.  Over 320 dresses and suits and accessories were given out.
Thanks to the generosity of hundreds of people throughout our community and  iHeartMedia, hundreds of dresses have been given over the years to girls who may not have otherwise been able to afford one.